My Thames Path Journey
|
Putney to Kew Bridge and back (12 miles)
Sze Kiu was volunteering at Fulham Palace. I thought it would be a good idea to use this opportunity to cover the Putney stretch of the Path within the four hours during which she would be working.
I decided to walk the north bank to get to Kew Bridge, and then take the south bank to get back. Starting off from the Palace just off Putney Bridge, I soon reached Craven Cottage, home of Fulham Football Club. Further on, I was surprised to stumble across the office of Rogers Stirk Harbour + Partners.
Past Hammersmith Bridge, I guess it would be fair to say I came across the closest thing to period property porn. All the way up until Chiswick, the houses that lined the river was just incredible. All those gigantic curved Victorian bay windows and beautiful verandas! Being a bit of a fan of London Underground signage and poster design, I was very happy to come across a blue plaque on a house on Hammersmith Terrace where Edward Johnston, the creator of the iconic Johnston typeface, used to live.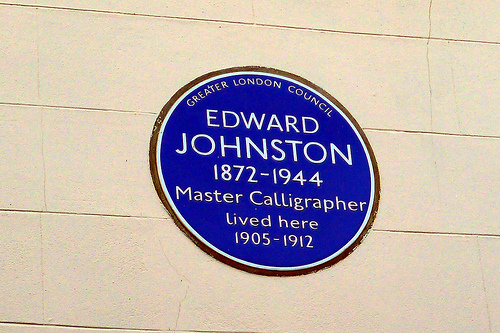 Ed woz ere (original image credit)
Once past Barnes Railway Bridge, the walk got a lot less exciting as, again, private developments forced their way between the river and the Path. Then, all of a sudden, I came across an Art Deco gem that I had only previously seen on Flickr but did not know the name of - Hartingdon Court. That brought a smile to my face.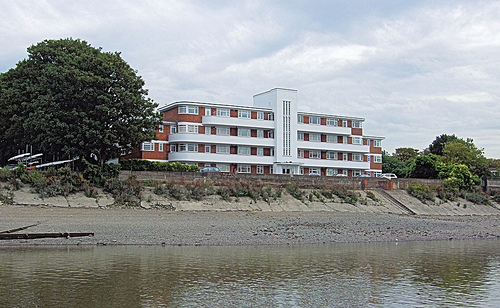 Hartingdon Court (original image credit)
Next up, Strand-On-The-Green. It is amazing places like this actually still exist in London. The cottages were very maintained. It was genuinely quite a surprise to see.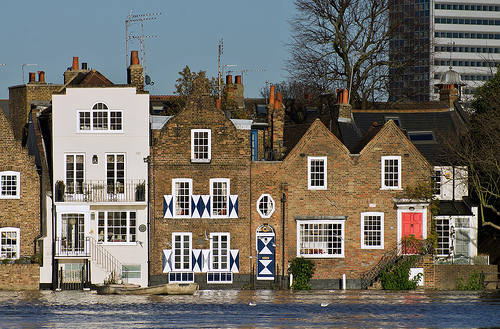 Strand-On-The-Green (original image credit)
I reached Kew Bridge, the furthest point of my way. I crossed the bridge to join the south bank. The walk felt very different already. There were more trees and less tarmac, and it almost felt rural. It passed Mortlake before looping above Barnes. There was the shell of the old Mortlake Brewery.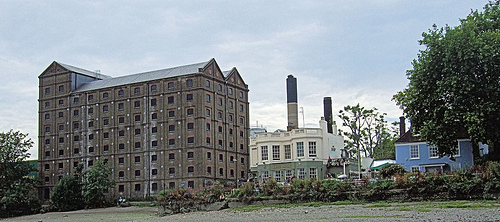 Mortlake Brewery And The Ship Pub (original image credit)
By this point, my feet were suffering. It was really hot that day, and I made a very silly mistake of going on a 12-mile walk in sandals that I had not worn for a whole year. To make things worse, tiny stones kept on being trapped underneath my soles, and the discomfort was growing. I was glad to see the Harrods Furniture Depository building from a distance. Even though the walk was not that long, and not at all arduous, I actually felt very much relieved to on Putney Bridge by 4pm, finishing the walk just in time to meet Sze Kiu.