My Thames Path Journey
|
Kemble to Cricklade (12 miles)
As the "Thames Walk" sign beckoned me out of Kemble station towards the start of today's walk, I had two thoughts in my mind - one of excitement and one of trepidation. Standing near the source of the Thames, I knew the prospect of finishing my Thames Path Journey was becoming very real. I had only the segment from the source to Newbridge left to complete. However, not having done any walking for 2 months, I also realised this was not going to be a walk in the park. I was about to cover just under 40 miles in 3 days.
From the station, skipping the official source, I took the Wysis Way footpath to join the Thames. (Sze Kiu and I did incidentally walk the start of the Wysis Way when we climbed up to Kymin from Monmouth Bridge in March - here I was, 55 miles away, at the end of the Wysis Way) My first sight of the river was of just a pool of water gathering near a small tunnel opening.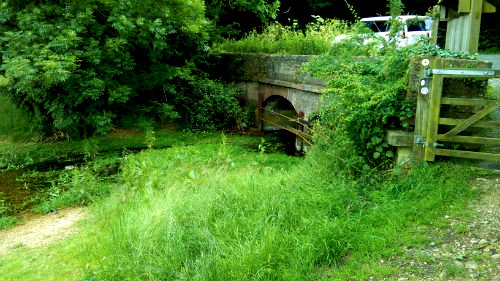 Thames near Kemble
I followed the river to reach Ewen, coming across a few people who appeared to be partaking in some sort of a running/orienteering competition. At this point, the Thames is still very much an "infant" Thames. It was pretty weird to see that the mighty Thames which had shaped the culture and commerce of London and many other towns and cities downstream was nothing but a gurgling stream at the back of someone's house. Here the water was shallow and pristine.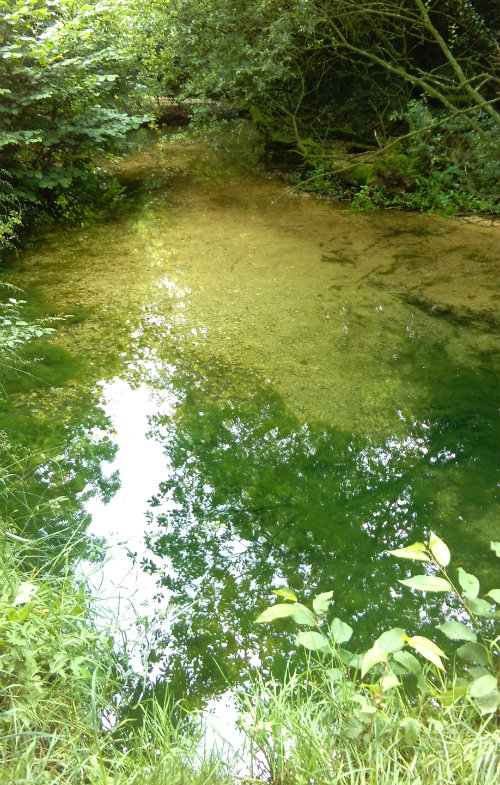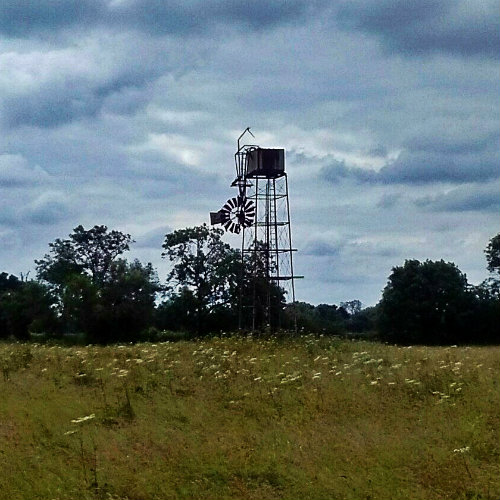 Old wind-powered water pump
It took me some time to get into a proper walking rhythm, but soon I reached the intriguing Lower Mill Estate. The estate was filled with new-build holiday homes in various styles, from Victorian cottages to Nordic modern houses. I even spotted a house with what I would assume to be faked pebbledash rendering! It reminded me of a smaller, but wackier version of Prince Charles's Poundbury.
According to the map, the path at this spot was meant to be flanked by huge lakes (part of the Cotswold Water Park), however if you are expecting Norfolk Broads-style walking, you would be disappointed. For most of the way, one could only catch glimpses of the lakes as the walk followed a enclosed path leading to Ashton Keynes, which itself was a nice but somewhat unremarkable village.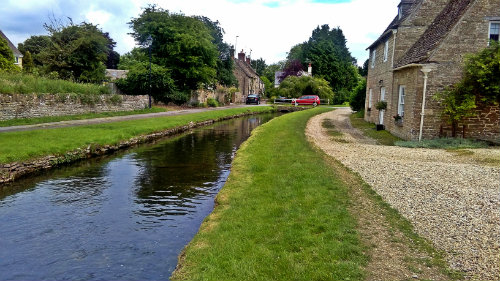 Ashton Keynes
Beyond Ashton Keynes, the walk carried on through the rest of the Cotswold Water Park to reach North Meadow in Cricklade. However, before that, I had a few obstacles to overcome. While the walk so far had been nothing but mud and puddles, the Thames Path at this point was almost turning into a swamp. I had to take either massive detours or tiptop on tiny grassy lumps to make progress. At one point, there was a swan chilling in a pool of water, which would certainly have jeered at my clumsy manoeuvres, if it had been able to speak. In the end, I was only too glad to see that my leather walking boots lived up to their expectation and my feet remained dry.
After such struggle, having to cross the meadow to reach Cricklade felt very much like a chore. My only interest at this point was to finish the walk, until suddenly I looked around and realised how beautiful North Meadow was - a lush canvas dotted with blues, yellows and whites. It is far too easy to lose sight of the beauty around you when you are pre-occupied with reaching the destination, the end-goal. After all, this is why I like walking - being able to slow down, and to appreciate the world that is around you.
Luckily, I made it to Cricklade before it started to rain. But, unluckily, I managed to just miss the 51A bus to Swindon, where I was staying for the night. As a result, I had to wait 2 hours for the next one. How much I love the Sunday bus timetable! And of course, being a Sunday, nothing was open in Cricklade.