My Thames Path Journey
|
Greenwich to Tower Bridge (5 miles)
Sze Kiu had to go on a museum visit, and we decided we would meet in town in the evening. There was Overground engineering work that day so I decided to walk from home to Tower Bridge. I had walked / cycled various bits of the stretch a few times, but never all the way from Greenwich to Tower Bridge.
I walked from home towards Deptford to join the Thames Path. Cutting through various residential estates, I arrived at Greenload Dock in Surrey Quay. Unlike the previous section, much of the Path now actually followed river. I passed the Surrey Docks Farm to find Hilton Dockland, which again took me briefly away from the river, before arriving at Rotherhithe.
Rotherhithe is a strange place. On the one hand, it is very much a riverside village, on the other hand, it is inner-city South London. There were bankers' houses literally across the road from council estates. This is London. There were the Mayflower pub, which was named after the ship that transported mostly English Puritans from Plymouth to the New World, and the Brunel Museum, which was part of the Thames Tunnel built by Marc Isambard Brunel. Amazingly, hundreds of London Overground trains still go through it everyday (well, apart from today).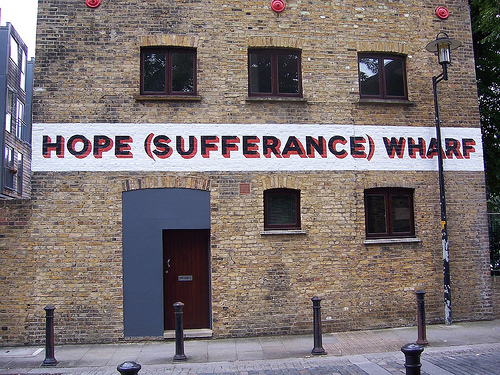 Rotherhithe (original image credit)
As the river headed northward again, the mighty Tower Bridge started to creep around the corner. Approaching Shad Thames, I came across a floating village. I bet most people would not believe you if you told them you lived on a boat less than half a mile from the Shard.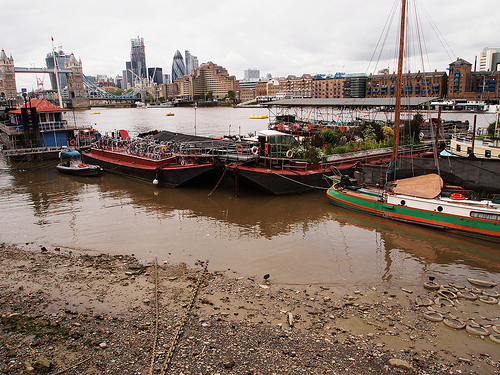 Shad Thames